THE VENUE FOR ALL SEASONS
At any time of the year, Ringwood Hall Hotel & Spa can provide an ideal location for your Wedding celebrations. Our hotel is surrounded by 29 acres of parkland, creating a picture-perfect backdrop for each of the seasons.
In submitting your email address, you are agreeing to receive emails regarding wedding news and special offers.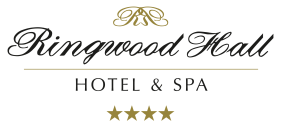 Licensed for Civil Marriages

The Ringwood Hall Hotel & Spa is a fully licensed Civil Ceremony Venue catering for indoor and outdoor ceremonies.
Our extensive range of wedding menus are carefully selected by our team of chefs, who are on hand to ensure you have the perfect menu for your special day.
Whether you are planning a small intimate gathering for your big day or a large event with all the bells, whistles and trimmings, the team here at Ringwood Hall will ensure that your day is planned to perfection.



Ringwood Hall Hotel & Spa has long been established as one of the most highly reputed venues for weddings and celebrations in the region. We're proud to be able to bring natural splendour and luxury to any couple hoping to tie the knot with us.
Ringwood Hall Hotel is Derbyshire's premier venue for speciality weddings, from vintage to international and everything in between.
Our spacious and stunning venue, coupled with our years of experience and wedding accolades means all your needs are catered for and your dreams realised.
Ringwood Hall Hotel & Spa
Ringwood Rd, Brimington, Chesterfield S43 1DQ, United Kingdom
Tel: +44 (0)1246 280077
Fax: +44 (0)1246 472241
Email: weddings@ringwoodhallhotel.com
Ringwood Hall Hotel & Spa - 2019 All Rights Reserved.